Archived News and Updates
2010-01-30
*FINAL REMINDER* Witchez Brew Radio Re-broadcast Interview:
Hey guys and girls,
I know you're sick of hearing about this, so this is the last time, honest! Just one more quick reminder to refresh your memory about the upcoming interview tonight on Witchez Brew Radio. Again here are the details....remember, it's tonight, January 30th/31 (for some of us) at 12am midnight EST which makes it Sunday morning for us East Coasters! 
Don't mess this time/date up...because it's cornfusing as heck! They have an awesome chat room where you can listen to the interview while we all talk and have a good time. They'll be playing some of my tunes as well as possibly 1 or 2 you haven't heard yet. :)
Try to be there if you can because I'll be hanging out in their chat room as well. I'll be answering questions and talking with everyone, so come and hang out with me. This is a pretty cool interview that will enlighten you about a lot of things and lasts pretty long. From music, to the behind the scenes industry stuff, a few personal life segments as well as what's been going on. Lady and Rev run a really cool metal station that I think you'll enjoy on a regular basis, so check them out beforehand...they rock hard and tell it like it is.
To enter the chat room and listen to the station at the same time, click on this link and you'll be in good shape. http://www.metaltome.com/witchezbrewradio
She also has an activity stream at www.myspace.com/witchezbrewradio and her actual website can be found here: www.witchezbrew.com
Hope to see ya there!
Much love,
Danny
2010-01-25
*REMINDER* Witchez Brew Radio Re-broadcast Interview:
Hi everyone,
Just a quick reminder to refresh your memory about the upcoming interview. I'll send one more of these the night before the event just to make sure. :)
Don't mess this time/date up...because it's cornfusing as heck again. On Saturday, January 30th at 12 midnight, (which makes it technically Sunday morning) Eastern Time, we'll be doing the re-broadcast of the Witchez Brew radio interview. They have an awesome chat room where you can listen to the interview while we all talk and have a good time. They'll be playing some of my tunes as well as possibly 1 or 2 you haven't heard yet. :)
Try to be there if you can because I'll be hanging out in their chat room as well. I'll be answering questions and talking with everyone, so come and hang out with me. This is a pretty cool interview that will enlighten you about a lot of things. From music, to the behind the scenes industry stuff, a few personal life segments as well as what's been going on. Lady and Rev run a really cool metal station that I think you'll enjoy on a regular basis, so check them out beforehand...they rock hard and tell it like it is.
To enter the chat room and listen to the station at the same time, click on this link and you'll be in good shape. http://www.metaltome.com/witchezbrewradio
She also has an activity stream at www.myspace.com/witchezbrewradio and her actual website can be found here: www.witchezbrew.com
Hope to see ya there!
Much love,
Danny
2010-01-16
Witchez Brew Radio Re-broadcast Interview:
Hi everyone,
Well, we're gonna try this again now that we have some time to promote and plan for it. I'm sure quite a few of you missed this, so let's try not to this time. :) Don't mess this time/date up...because it's cornfusing as heck again. On Saturday, January 30th at 12 midnight, (which makes it technically Sunday morning) Eastern Time, we'll be doing the re-broadcast of the Witchez Brew radio interview. They have an awesome chat room where you can listen to the interview while we all talk and have a good time. They'll be playing some of my tunes as well as possibly 1 or 2 you haven't heard yet. :)
Try to be there if you can because I'll be hanging out in their chat room as well. I'll be answering questions and talking with everyone, so come and hang out with me. This is a pretty cool interview that will enlighten you about a lot of things. From music, to the behind the scenes industry stuff, a few personal life segments as well as what's been going on. Lady and Rev run a really cool metal station that I think you'll enjoy on a regular basis, so check them out beforehand...they rock hard and tell it like it is.
To enter the chat room and listen to the station at the same time, click on this link and you'll be in good shape. http://www.metaltome.com/witchezbrewradio
She also has an activity stream at www.myspace.com/witchezbrewradio and her actual website can be found here: www.witchezbrew.com
So try and stop out if you can and hang with me. I'd love to see you there! I'll post up another reminder next week just to keep you informed in the event of any changes or anything and of course I'll post again the week of the broadcast. Thanks, hope to see you! :)
Much Love,
Danny
2010-01-10
Radio interview at witchezbrew.com:
Hi everyone,
You may have missed it, but I did a really killer interview last night with Ladyhawk from witchezbrew.com. Long night...lots of discussion but both of our sites were messed up for a bit and we didn't get a chance to promote it right. So we talked about a re-broadcast. As soon as I know when it will be, I'll let you know. Killer station they got there. If you're ever in the mood for some killer metal, check out witchezbrew.com and give them a listen. They tell it like it is, do what they want to do, and are really human about it all. Very passionate about the music they love as well as the artists they support. We played some killer DD music there last night....quite a lot that hasn't been released yet, so when we re-broadcast this thing with the right amount of time to promote it and both of our sites are working properly, it should be one helluva time. I'll keep you posted on that and give you as much notice as I can so you can plan for it. The intereview was pretty long because of my long-winded azz, but it will keep your interest, that's for sure.
I also may have found out some incredible news yesterday about a possible deal in the works that may put me back out on the road to do some touring. Nothing is etched in stone just yet, but damn if it didn't sound impressive coming out of the gate! If this materializes, which it very well looks as though it might, 2010 is going to be a year to remember for me. I'll let you know about this in full as soon as I hammer out the details and see exactly what is going to happen. That's it for now....I'll be in touch with you all soon and from here on out, those that visit the forum, I've added a news forum there so you can see what's going on since you've most likely bookmarked the forum and don't visit here as often. Have a wonderful Sunday....talk to you guys soon! :)
Much love,
Danny
2010-01-06
Site back up and running:
Well we just experienced our first major disaster with the new hosting company. Though 24 hours is a bit too long to be down as far as I'm concerned, they kept their word and to me, it's honorable even if I'm not totally happy. Our board is back up and running and all is well now. Special thanks to K.C. for hammering the issues out on his own until he knew there was something that had to be wrong with the hosting company. He then hacked things out on the phone with them for a few hours and they had to turn it over to their guru's to look into, promised it would be fixed in 24 hours, and it was. So thanks K.C. and thanks to the hosting company for keeping their word. Also, a round of thanks go out to Baby, Johnny, Cathy and many others for mailing me or messaging me, letting me know the status on the site as they were checking often to see if things were working or not.
If you've not been to the news page at http://dannydanzi.com/home.htm please check it out because there were some pretty cool updates right before the site somewhat crashed. So now that we're back up and running, it's "back" to work for me! Talk to you all soon, I'm sorry for any inconveniences and thanks for your patience. :)
With much love,
Danny
2010-01-04
Happy New Year, an Interview and other News:
Happy New Year everyone! Here's hoping your 2010 is the best ever and all your dreams and resolutions become reality!
Thoughts on 2009,things I've learned:
I learned a lot in 2009. Made a few changes in my life, made a few new friends and contacts as well as a few enemies. That goes with the territory if you're me though, so you get used to it. LOL!! One of the things I've learned that really hits home is no matter how long it's been since you lost a loved one, it doesn't get easier. Also, you know how when someone says "My mother passed" or "My father passed" most times, we say "I'm really sorry to hear that" and kinda go about our business thinking "wow, that sucks....I'm so glad I'm not going through that?" When you lose a loved one, you know how powerful those words are when you hear it from another person. It makes me want to hug them and share a little cry because I know how bad it hurts. If you have mothers and fathers still alive, give them a call and tell them you love them. If you're involved in a dispute with your parents, let this be the year that you try to resolve it. Even if you fail, it's good to know you tried and you should be able to live with that. You just don't want any regrets, trust me. I have no regrets over mom's passing, but if I did, I'd have a harder time moving on from this. I'm having a hard enough time without any regrets, could you see me having a few?! Uggh! So do the right thing...trust me on this one. My dad and I tell each other we love one another every day and it makes us feel great. Nothing wrong with expressing a little love because as you know, life is too short and you just never know....you may not get the chance. 
New friends, new contacts, new beginnings:
Quite a few new friends, studios, contacts and students have been added to my already busy roster. The video lessons part of this site has really taken off as well as the mastering and production stuff. One new friend of mine who I feel is really worth mentioning here is Guest House Studios. You can check out the studio here. http://www.guesthousestudios.com/
Tony Buenger, proprietor, and I have really become a great team and have done some killer stuff together. We've actually experienced a bit of success with one of his artists, the awesome "Leah Pritchard" ( http://www.guesthousestudios.com/Leah_Pritchard.html ) who has 2 singles being played on the radio. She's a really good writer and singer and along with Tony, they make the perfect team. The 2 songs are really killer with a slight country/rock vibe. The first single, "Ashes" is a tune Tony asked me to play a little rhythm guitar on, so you should recognize the sound of yours truly on the track backing up Tony and the band. The song was mastered here at DanziLand. The next single is a song called "Whiskey Talking" where again there's a little bit of rhythm from me in it mixed with Tony's guitar and me playing a little pedal steel! LOL! You can hear the songs in Tony's news section on his site here http://www.guesthousestudios.com/News.html and scroll down to the November 28 section. Tony has become an awesome friend and is an engineer I would highly recommend for any of you in or close to the Alabama area. I don't just say that because he and I work together, I say that because I believe in him as an engineer, he has a great facility and is a trustworthy and honest soul that knows his stuff....which is rare in this day and age. So if you are in that area (or even if you're not and you want to record somewhere and get more than your money's worth) and thinking of having something recorded, send Tony a message or give him a call. Tell him Danny D sent ya! :)
Witchez Brew Radio Interview on January 10, 2010 at 12:00 AM EST: To kick off my New Year, I have a net radio station interview lined up. It's confusing, so read carefully. Ok wait, it's only confusing to me due to a messed up mind. LOL! The interview will take place on Sunday, January 10, 2010 at 12:00 am EST. Now, if you're me, it's not officially Sunday until you go to bed on Saturday and wake up on Sunday! LOL!!!! So to make it easier for people that think like I do, let's remember it this way.
If you are up late Saturday night, January 9th at 11:59pm EST, when the clock strikes 12 midnight, it becomes Sunday morning and you need to go to www.witchezbrew.com and listen to the intereview with DJ Ladyhawk and myself. How's that for easy? LOL!!! The interview will be recorded earlier in the day so it won't be live on the spot. We wanted to try it live and on the spot, but we felt it would be best to stay with what works best. So try to listen in if you can. :)
New projects:
I had mentioned in the last news update that there was a project with myself as well as Joey and Guy Defalco in the works that was originally just for fun. The project is gaining even more momentum and new songs are being written every few days. I'm stoked to let you guys hear this stuff, lemme tell ya! I'll definitely post a few clips in the coming weeks. I just don't want to blow my cork too early. :) We haven't come up with a name for the project at this time, but we very well may just go with it as a Danny D project since I *may* be the guy singing on it. The reason for that is, why try to market something completely new when it has elements of me and I already have a bit of a following? It still sounds like stuff I would put out on my own, but this just has a different flavor to it and it will be easier for me to shop to the right label using my name. This is all still undecided, but it's stuff we've been talking about. I know that my label in Japan would rather we keep it "Danny Danzi" eventhough this project has myself, Joey and Guy writing all the material as a unit/team. More on this as it materializes.
Skeleton Crew: My cover band, Skeleton Crew has been taking a break for the holidays. We'll be resuming our rehearsals soon and hope to be out playing by the spring. I'll keep you updated on this as well. As of now, the line-up is Marc Moore on lead vocals (original singer of the band), me on rhythm/lead guitar (I'm the second guitarist that replaced the great Larry Campanella who was the original guitarist), Andy Slostad on bass (who is my bassist in my original Danny D band) who has taken over for the awesome Mike "Rug" Regina the original S-Crew bassist, and TimmaY Lloyd on drums. (who is my original drummer in my Danny D band who has taken over for Steve Sadowski the original drummer in S-Crew)
Tommy Lee project: I had also mentioned a little about this in the last news update. I have a few more songs to finish up and mix and I'll be releasing it for you all to listen to. It will NOT be for sale, nor is it what will end up on Tommy's actual album. It's just my take on his material and whether I wrote, changed, or altered anything, the material is exclusively his. Make sure you check out his new album when it does come out. I think what he's done here far exceeds anything he's ever done with Motley or any of his other projects. The songs are written incredibly and the dude sings sooo great on this material. I played lead/rhythm guitar as well as bass and piano on a few tunes. I'll share them with you as soon as they are ready to go. Just make sure you buy the REAL Tommy album. I'm looking forward to hearing how the final outcome sounds.
That covers everything for now! I wish you all the best in 2010 and thanks for your support, friendship and love. I'll be in touch with more news shortly as well as a reminder for the radio interview. Thanks again!
With much love,
Danny Danzi 
2010-01-04
What the heck?!:
Not sure what happened in the latest news update folks, as it came out all underlined and crossed out if you receive email updates. I'll get with K.C. to find out what went wrong there. If you need to read the news without that annoying line-out, it posted fine on my site at http://dannydanzi.com/home.htm without all those lines in it. Sorry for any inconvenience!
2009-12-26
Merry Day after Christmas!:
Hello everyone!
I hope you all had a wonderful Christmas. Mine was great! Hung out with family, ate like a pig and gained about 8 pounds, but I'm done with that eating thing for the rest of the year. LOL! It seems to be the only time I get near the 150lb range. I'll be back to 141 in a week though, so I'm not worried. Hahaha!
With New Years coming up soon, I'm sure quite a bit of you have New Years resolutions. I try to make them every year, but unfortunately I can't keep them. I'm really not upset by that because none of my resolutions are things that are necessities really. When I say I'm going to do something, I do it. I don't make resolutions or false promises for important things. The way to get something done is to just do it and take care of it if you think it's a problem, ya know? So if you make resolutions, keep them. Write them all down on a piece of paper and try to work on each one a little at a time. As you do what you promised you'd do, cross that thing off the list. I think we stress out when we try too hard or put pressure on ourselves to do multiple things at once. Everything in moderation. :) So have a safe New Year if I don't talk to you beforehand.
Ok, some news for you finally! :)
1. As you may or may not know, the message board on the site has been getting pretty busy with cool topics and cool people. It's definitely worth checking out if you haven't had the chance.
2. Skeleton Crew: Those of you interested in what's going on with the band, I'll give you the scoop. As of now, we are back together but we're taking things very slow and we're being productive with it. For you ladies wondering, Marc is looking good and sounding good...so no worries, he will not disappoint you. Considering he's not sung with a band in 15 years, he's doing quite well. Andy Slostad on bass, and TimmaY Llloyd on drums from my Danny D band are handling their jobs incredibly well too. I'm just the guitar player in this band and probably won't sing too much other than back ups. We're taking a break for the holidays, but hope to be playing by the spring if all goes well. I'll keep you posted on that.
3. I've started a new original project with 2 old friends of mine that has really been shaping up into something that appears will become reality. Joey Defalco (bass), Guy Defalco (drums) and myself put together a little experimental project for fun that is really turning into something totally SICK! I can't WAIT to post up some sound samples for you guys. This material is totally off the hook!! Seriously! Very groove oriented and musically stimulating is all I can say to describe it. We haven't decided who is going to sing because all 3 of us are good singers. So far I sang on the first song but we may hear Joey on the next one. We just wanted to put a project together that had no rules and would be all about having fun musically. If a tune is a hit, it's a hit. If it's just a musical, eargasmic experience, so be it...if it sounds modern, alternative, nu-breed metal, country, pop or slightly 80's, so be it. We're just going with the flow and having a fantastic time. No rules, no deadlines, no stress, nothing but fun. This is definitely one of the most fun projects I've ever been a part of. If it gets off the ground, I welcome it. If it doesn't, that would be really sad...but even still, no regrets of any kind. I really think people will dig this material no matter what style of rock you enjoy best. I'll keep you posted on this as well.
4. Mastering, mastering, more mastering, video editing, video lessons, producing and session work is all I've been doing these days. So much so, I haven't had much time for anything else to any extremes. If you need your project evaluated or need mixing, mastering, producing, resampling, custom recording lessons or anything else, send me an email and we'll get you straightened out. I'm swamped with work but always find a way to get people taken care of.
5. Tommy Lee: Joey and Guy Defalco were doing some writing for Tommy Lee's upcoming album. We had assembled our little project at first in hopes of working on Tommy's stuff as a unit. Unfortunately (for Tommy) we decided to do our own thing instead of work on the Tommy tunes that are now open to the world to take part in. I worked on 4 of them myself and gave Tommy my take on how I thought his tunes should be. I'll post them up so you can have a listen. I don't know what the dude was/is looking for, but from some of the stuff I've heard that he likes, he won't be choosing what I've done. I also made up my mind not to continue working on the project. Though I had a blast doing the tunes I did, upon hearing some of the submissions he accepted as "friggin' great!" I got sick to my stomach wondering what he was smoking. Some of that stuff was just pathetic, and quite horrible. I still cringe when I hear this dude playing this solo just putting his hand anywhere on the neck playing all this sloppy speed crap and Tommy saying "now that's what I'm talking about....I should have this all over!" or something to that effect. Ugggh!! I thought we were supposed to play for the song?! I also thought mind-less shred and wank-fests went out in the 80's and were only acceptable if you were playing for 4 months?
Anyway...yep, my parts I wrote were some of the best there in my opinion according to what I heard that WAS accepted. It's all for free for a name credit...which would be cool, trust me! But, it's not worth the time to me honestly. I put a ton of time into the tunes I did. If I released them as they are, they'd be hits in my opinion, but I'll let you be the judge when I post them up. I wish I wrote them totally, but they are Tommy's baby's and they are all fantastic in my humble opinion without me or anyone else that he is auditioning to write with him. All I did was alter what was given to me but I sure did come up with some killer stuff! Most people played along to what Tommy gave them. I muted all the tracks he gave and wrote my own parts to his vocals that were already there which gave the stuff a pretty cool flavor. So I'll not be continuing with that and will focus on my own stuff.
6. I'm still working on tunes from the SLIT album for my own head. I'll be posting those up as well. It's been a slow process because I've been so busy, but I really do want to finish that sometime this year. I also started working on an instrumental album a few months back...but that too has been on the back burner as well as another DD Band album with Andy and TimmaY. I wrote about 5 tunes for a new album and just put it on hold. Tim and Andy have been busy with stuff, Phil has been busy as well and has 3 kids now...so we've all been pretty busy. I do believe the band will write some stuff this year though because I know we're all itching to do it. We just have to find the right time and we'll go for it. So something is gonna happen this year, I just don't know what! LOL!!!!
That should do it for this update. I wish you all a safe and happy holiday season and hope 2010 is better for you than 2009 was. Let's hope this economy changes for the better for everyone! Be safe! ;)
With much love,
Danny Danzi
2009-08-29
New Server!:
Hi Everyone,
We have finished moving the site over to a new hosting company. This caused a few bumps in the road for a bit, but KC was on it like white on rice. We have a new message board and we'll be adding some new stuff shortly. Thanks for your patience and support...more news and new site add-ons to follow shortly!
Danny Danzi
2009-08-29
An Interview with Beau Hill!:
Hi guys,
As most of you know, I'm heavily into the production field and am always researching this stuff and then trying it in my studio like a little laboratory. There are a few sites I frequent that are also very interested in this part of the music business, so I wanted to try a little something new. Yeah I know, this is uncharted waters for me, but I got the chance to interview one of the great producers of our time, Beau Hill! You'll have to be a site member to read it on my forum though, so sign up for free if you're interested. Special thanks to Beau for being such a great sport with his in depth answers to my 27 questions! I really had a great time doing this and hope to have a few more of my inspirations interviewed in the future. But we started out here with one of the best and I'll be forever grateful to Beau for his time on the interview, advice over the years and the great phone conversations we've had. It's amazing guys...some people taste stardom and become less human and could care less about us little guys....Beau's stardom hasn't done that at all...the guy has remained an incredible human being and has always been awesome to me and those he has worked with. Thanks for everything Beau, we wish you continued success in all your future endeavors!
Danny Danzi
2009-08-19
Recording School consultation and additional services!:
Hi everyone,
Hearing from me a lot lately, eh? :) Well I've decided to bring what I've been doing behind the scenes, out to the public. I've been mastering, producing, re-mixing, resampling and doing various projects behind the scenes like a lunatic. I've been able to train a few guys as well as some that already have experience in the field, to take over some of the work for me. This in turn will give me a bit more time to dive into something else that I'll present to you.
Recording School: I will be teaching recording lessons as well as various techniques, mastering, resampling, templates, eq curves, compression and other effects, all done one on one using video format. This means, you can send me one of your songs you may be having issues with, and I will literally create a video for you personally showing you what to do and how to fix your issues. I'll be using Sonar 8 producer edition, but the language and aesthetics are basically the same. Eq's, compression, and other effects used to fix your tune are effects you have stock in every DAW software. You'll see a video of me working on your tune and applying the right technology to make it sound good. One on one, and made for you exclusively! If you would like a specific lesson in an area you are having issues with, I can cover that too. Recording, mixing, mastering, resampling, re-amping, midi, guitar layering, effects techniques, proper sub-mixing and busses, drums, keys, bass, the list goes on and on. Pricing on these lessons will be discussed on an individual basis which will depend on your specific needs and how long it may take to create. So mail me below for details!
Now, keep in mind, there are many ways to achieve the results I will cover with you. There may even be a few recording guru's that may scratch their heads at some of this stuff and wonder what drugs I'm on. :) I can only share what has worked for me and this is what makes this field so incredible. There really aren't any rules, there are guidelines. If it sounds good to your ears, it doesn't matter how you get there. We can also have fun with this and experiment as we go along. Curious as to how I may have recorded one of my own tunes? I can show you. Need a fatter guitar tone or some extra oommph in your drums, I can show you how!
Mixing, producing and mastering: Also, the services I teach are services I sell. If you are in need of any of the above services mentioned on your song or album, I'll take care of it for you. I will not give any prices on this because I believe in being fair. Each person has different needs and these needs will have to be addressed one on one. I'll review your material and tell you what it may need. If I have to polish a turd, I very well may turn the job down as it is not worth my time or the money it may cost you for turd polishing. As part of my service, a full review of your tune will be done and I will report back to you telling you what you will need to do to fix it before we go to the mastering stage. Mastering prices can be anywhere from $50.00 to $200.00 per song depending on the work that needs to be done and how much time goes into it. For the most part, $50-$100 per song usually covers 95% of my clients. There are people that submit vinyl albums that don't have master tapes or DAT tapes for. It is VERY time consuming to load an album into a pc. At least an hour before I touch a single thing...not to mention how much work goes into the processing to convert that album to digital the correct way. So if you have an album you want remastered to digital, $200 per song is what you're faced with but I guarantee you a fantastic product with 0 artifacts, clicks, pops or turn-table oscillation. Please feel free to contact me on any of the above services by sending an email to: Danny Danzi and we'll discuss your needs personally! Thanks for reading and I'll report back with some new news soon.
Click Here For More Details!
Danny Danzi
2009-08-09
New site stuff and some news!:
Hi everyone,

We'll be putting together some new site updates shortly. Not sure what the heck disc server did to my message board, but it's just as well. We need a new one anyway. Quite a few things will be in the works. I'll give you an idea of what's going on as soon as me and KC figure out all the details.

In other news, I got some new material in the works that I'm still deciding on whether I will let a label release it or just release it myself. A few good ties in Japan are really looking forward to the release, but if they force me to sign with a Euro label, I'm afraid I'll have to pass. I've had my fill of the Euro labels and would rather never release another album again before I sign with one of them. The album is still a long way off, but I'm really making up my mind now whether to go through with the post production and release it or work on my own time and release it when it's done. I'll keep you posted.

On the cover band front, Skeleton Crew is alive and well. It's not the same line-up, but this one will definitely deliver the goods. So much so, we may not even call it Skeleton Crew at this point. The current line-up is:

Marc Moore: Vocals (original vocalist)

Danny Danzi: Guitar (that's me ya know!)

Andy Slostad: Bass (from my original band)

TimmaY Lloyd: Drums (from my original band)

We hope to be out in a few months and we'll have some really killer tunes to rip up for you. Those of you wondering about the Van Halen show we used to do, chances are you won't see that unless it's something we really get hounded about from the majority. What you will see though is plenty of explosive rock from the old stuff to the latest stuff, that will keep your feet moving while you enjoy one of the best musical cover bands you'll ever see. That's not a threat, it's a promise. :) I'll keep you posted on this as well and I'll most likely be posting up a few sample tunes showing you what we'll sound like. The band is going to focus on doing the material our own way. So by the time you hear it, you'll think we wrote it! Stay tuned and I'll get back to you on this stuff as soon as I know more! God Bless!

Danny Danzi
2009-06-21
Danny Danzi on Infernal Rock Radio!:
Friday night I did a phone interview with Infernal Rock Radio. The interview will run on Sunday July 5th at 4pm Eastern time. You'll be able to tune in and listen by going to Infernal Rock Radio and I may even be hanging in their chat room for the show. Hope to see you there!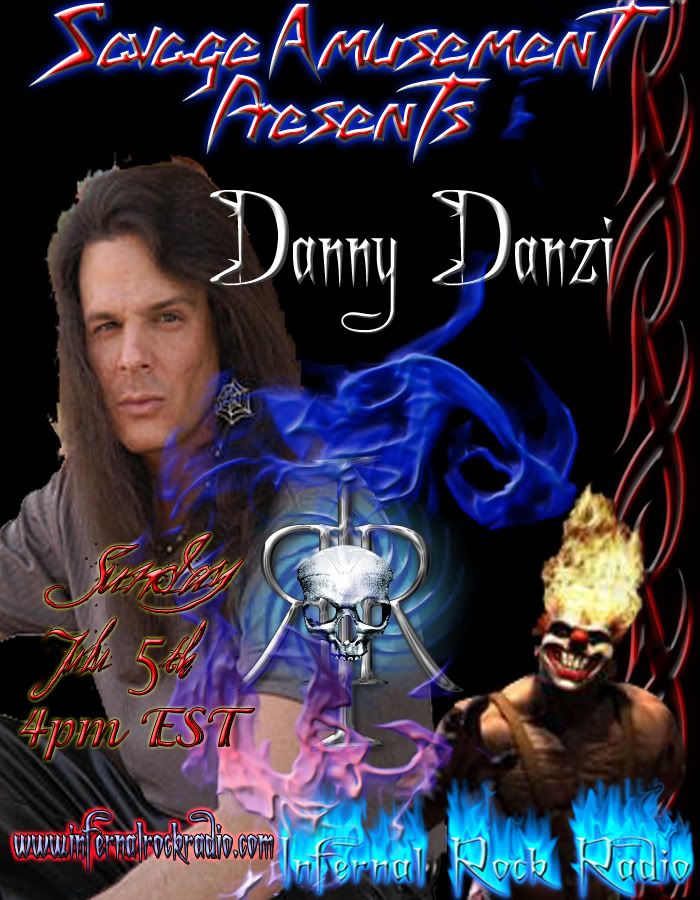 2009-05-26
Finally an update after a year!:
Hi everyone,

So much to talk about, so lets see. A bit of sad news that bothers me quite a bit, but it needs to be said. My webmistress Michelle "Shell Shell" Alan has moved on to different things. I tried to call her numerous times and sent email messages but never heard back from her. If I offended you in any way Shell, I'm very sorry but for the life of me I can't recall what I may have done. I thank you for all the work you did on all the Danny Danzi sites I have ever had and for being one of my best friends. I'm sorry we lost touch and I hope you and your family are ok. Hopefully you'll talk to me once again and at least let me know how you are...or just mail me and call me an asshole if I've done something wrong. But this silent treatment is killing me! I love you and thank you for everything through the years!

The guy taking care of my site as of now until I can learn how to do it myself is none other than the infamous, KC Jones! One of my best buds who I hate at times for being one of the best rock/metal guitarists you'll hear in this lifetime. Those of you that follow guitar heros should know of KC as he is one mean dude...and if you don't, type KC Jones or The Jonezter or The man formerly known as the Jonezter in youtube or any search engine. Then prepare to have your face ripped off! Thanks for all your help and for teaching what to do here KC!

What's up with you Danny?!:

As for me, I'm doing so many mastering and production jobs I can't do much else at the moment. With the economy the way it is, we starving musicians need to pick up whatever work we can grab. So, I'm fortunate enough to be kicking some booty in that area. If any of you need any mastering work, a producer or some guitar on your tracks, or even a singer, let me know. I also do complete instrument resampling and re-amping as well as drum replacement and additional sampling. My prices are fair but can be pricey depending on what is needed and how time consuming it will be. You get what you pay for with me and we don't stop until we get it right. Mail me if you need anything and we'll talk about your project.

On the music front career wise, I'm still working on songs from the SLIT album for my "Best Of" CD that will be placed in the hands of an attorney for shopping purposes. This will not be released to the public. However, I am working on an instrumental CD as well as a new vocal CD. Depending on how my attorney makes out with the shopping will determine how this release goes. I have been contemplating releasing the stuff on my own, but I don't know if I really feel like doing all that stuff myself. It's hard enough as it is to do an entire CD yourself.

I've spoken to a few labels but haven't decided what I'm going to do yet. One of them is actually in the USA for a change, so this is definitely something to consider. We shall see!

Johnny Lima and Me:

Contrary to what you may have heard, Johnny and I didn't do an album together. Instead, I was asked by Johnny to play 2 guitar solo's on his album and that was the extent of it. You can grab the great new Johnny Lima album on his website at JohnnyLima.com and hear the 2 songs I played lead guitar on! I had a blast doing that, thanks Johnny and I wish you the best with album sales bro!

Skeleton Crew:

The band was put back together a few months ago and when things didn't quite go the way they wanted with the original line-up, I was asked to play with them. Unfortunately we have been having a few issues, but Marc and I are still pushing along with this and have since added Danny D drummer TimmaY! Lloyd into the band. We're looking for a bassist, so if you live in the area and you're interested, shoot me an email and we'll give you a shot. The band will be playing a few of the old classics we used to do as well as newer stuff. We have discussed an old VH show like we used to do, but that will depend on whether or not people would really like to see that again. So for now, you can expect all mixed sets with our own flair.

Misc. Stuff:

Going to try this shred shed thing again with the help of KC Jones as well as my own stuff I'll be posting there. As soon as I can come up for air, we'll get that under way. Also, we'll be having a members only section where I'll be sharing a few things that people just browsing the site will not have access to. The sign-up will be free, so no worries. I will be putting up some recording type informational videos as well as me shredding and talking about gear, un-released material, some fun jams...stuff like that. So stay tuned, and I'll keep you posted. Now that I know how to do some of these updates myself, it will be easier for me to keep in touch. As always, thanks so much for your support and friendship. It means a lot to me.

With much love,

Danny Danzi
2008-05-01
Rocklahoma 2008:
After further rehearsals with White Foxx, I made the decision to withdrawl from the project because I just didn't feel it was in my best interest to perform with the band at this time. There were a few communication issues within the band and myself to where I lost my confidence to be a part of the project. I'm a very patient man but I'm also a professional that does things a certain way and I have standards I live by. If the majority of those standards are not of equal value to a project I'm involved with, I can't take the chance to go out there and possibly feel I've made the wrong decision at the end of the day. I've not had much US exposure and felt though the band was very good, several communication errors and levels of commitment from the band were not quite where they should have been for a gig that could easily have 55,000 people on hand. Though I'm not a big star by any means, I need a certain level of confidence when I'm a part of a project and I have a reputation to protect for myself and most of all the fans I have that expect to see me do what I do best. A few weeks ago, the band and I decided mutually to pull the plug on playing Rocklahoma to which they sent an email to Sam at Retrospect Records. I never found out if he replied and I've never seen any news from his site or at melodicrock.com stating White Foxx was not going to do the gig. So maybe they found another guitarist for it and changed their minds. I gave them plenty of time to do this, so I'd not be upset if they decided to get someone else and still do the gig. Those guys are STILL great players and it was a blast getting to know them. I just felt it wasn't where I should be. I wish them the best of luck and if they are still doing this gig, I thank them for asking me and hope they kick some serious ass out there! :)



Powerhouse:

I mentioned in the last update that I would be working with a killer cover band called "Powerhouse". It appears that will be on hold for a while. The current line-up has very powerful personalities. Though we all get along like best friends outside the band room, a totally different animal comes into play in the band room. We decided last Wednesday that we'd be pulling the plug on that project to save our friendships. There may be another cover project in the works, but at this time I really haven't made up my mind as to whether or not I want to get involved with another one. I put a lot of work into this one and lots of time for the little bit I was with them. It makes me feel like some of it was wasted time as I'm sure it feels that way for all the others. So I don't know what my future holds as far as a cover band goes. I take things very serious whether it's a cover band or an original band. I'm a perfectionist and am a bit too intense with my work ethics and how I go about things. In this day and age, most musicians are playing for fun and have other commitments that are more important than a fun cover band. I completely understand that and don't hold anything against people for having to spend time with their family or work extra hours in their careers that allow them to survive. But being in a good band whether it be cover or original, takes sacrifices and commitments. If everyone has their own plan and we can't meet in the middle because we are all leaders in our own way, friction sets in and that's what we saw here. So I wish the guys all well and am glad I got a chance to play with them for a little while.



Ik Multimedia Software:

I recently spoke to the North East rep of the company in regards to doing a few specialty shows endorsing and demonstrating their products. If this takes off there's a good chance that some of you can see me doing little clinics while demonstrating the potential of the power Ik has had on the audio industry. As of now the rep and I have discussed a few possibilities that are being worked out, but nothing has been etched in stone other than I was asked to assist them and I agreed to do it. I'll keep you posted on this one.



Best of CD:

I've always been bothered by the production on SLIT. I love the songs but felt I really didn't do them any justice as an engineer at the time and now have a facility loaded with gear that can give me the sound I've always wanted as well as the technical know-how to get the job done. I've decided to revisit a few of those songs and redo them. When I'm done, I'll mix them with some of my favorites on DanziLand and throw in 2-4 new songs as well. This CD will be made for shopping purposes as I have a few new connections that really believe in me and my music. We just both felt the production on some of my older material could be improved. The DanziLand stuff will remain as is because I was very proud of that album. So we'll fix up some of the old stuff and throw in a few new tunes. It probably won't be something I ever release because I don't feel it would be fair to charge people for something they already have for the most part. I am currently working on an instrumental CD as well as a new vocal CD but those will take a while to be finished. I'll keep you posted there also.

Well that's it for this update! I hope this finds you all well and as always, God Bless and thank you for your continued support and friendship!
With much love,

Danny Danzi
2008-04-09
Hey guys!:
I know I know, I always start one of these with a "sorry I've not been in touch" message. But you know how life can be sometimes, so I know you forgive me. J I have quite a lot to report this time and I'm going to try and keep in touch a bit better. What do I do when I don't have good news or much to report? Should I make a bunch of things up just to keep this place fresh or do I go with the notion that "some things are better left unsaid" or "no news is good news/bad news"? Tough call isn't it? At any rate let me fill you in on what's been going on since we last spoke. I'll be as in depth as possible here, so you may be in for a long read.



The Danny Danzi Band:

For those of you wondering, at this time the Danny D band is no more. It's really strange how it all somewhat disintegrated and no one was fired or had any harsh words towards each other. We all lost touch to the point of me just realizing one day "wow, I don't have a band anymore do I?" Here's the scoop in full in case you're wondering how 4 friends that sincerely loved each other just seemed to fall by the wayside.

The band of course had lost Wayne right after DanziLand was released. I knew this would be tough for us to recover from, but Andy stepped it up and delivered the goods on bass for us. So at this point it was me, Andy, Timmy and Phil. We rehearsed quite a bit in hopes to play as often as we could. We also had hoped some of our new contacts would come through for us in the management area for gigs and a US presence. This of course never really happened. After we did 2 shows with this line-up, I became a bit depressed. I had one of the best bands I could ever want and had nowhere to play. What do you do in a situation like this? Andy has a pretty awesome career in radio, Tim and Phil have awesome careers, kids and significant others in their lives, what were we supposed to do, travel like gypsies playing seedy bars for $500 a night IF we were lucky?

There just weren't enough places to play close by for original music. We'd have to travel to New York, or North Jersey or way further for the most part. Though you may think that's not far to travel, (about 2 hours or more realistically) when you have to get up for work the next day and the freakin' club books you on a Wednesday to try you out, 6am comes early and comes at you hard. I couldn't subject my band or myself to that. You deal with stuff like that when you're in your 20's, not when you're older have families and commitments and have been doing this for a long time. The thing that totally sucks about this was the band was to tight, I think we really could have done something with the right management team behind us. I could see us opening for major acts and blowing them off the stage. I'm serious when I tell you, we were on top of our game in all aspects.

When the summer of 2005 was upon us, Phil and Andy had mentioned how difficult it was to come to NJ from PA. The traffic going down the shore was sometimes unbearable and these guys would rush to come here every Friday night to practice. That drive alone was commitment enough to me as both of them drove at least an hour or more every time they came here. When they mentioned the heavy traffic thing, we had all decided to take the summer off. Little did we know we'd only get together as a band one more time. Kathy Tozzo (incredible writer from www.strikeupthebands.net and my partner in crime) had come to hang out one Friday night we had rehearsal. At this point the band had not played in about 3 months and I figured we'd probably suck. Much to my astonishment, it was the best rehearsal the band would ever have and it would be a night I'd never forget. We were so hot and in tune with each other we did things we had never done before as a band. We literally played EVERY song from both SLIT and DanziLand as well as some new ideas, covers, and a few spirit jams. Thankfully, Kathy got some of this on video using her cell phone, but not any full songs. I'll never forget that night as it would be our last jam and we went out like champions. There is no animosity between the band and I to this day as far as I know, but we've lost touch and everyone has moved on to other things. I would like to thank Andy, Timmy and Phil for their hard work and sacrifices for the project as well as being great friends. Maybe sometime we'll work together again if the timing is right and we have some real places to play that are financially rewarding. I have no problems playing with them and would do it in a heartbeat if we had a legitimate offer to do something.

From there Tim and I would talk a bit and try to keep things going. My good friend Kevin Mercer would join us for a bit and take care of the bass duties and some back-up vocals. Kevin and I would go on to write 6 songs together but unfortunately we'd never finish them due to circumstances beyond my control. After those circumstance, which I'll cover later, Kevin would later get a call from a well-known cover band in our area called DVS and is now enjoying playing weekly with them. He has kept in touch with me and has stressed that he'd like to still be a part of the Danny D band, but if I have nothing to offer him at this time (which I don't) I can't see where I should keep anything going. Tim and I lost touch and the last we did talk he was taking care of his family and doing his thing playing in a cover band a few times a month. So at this time, there is no Danny Danzi Band and I don't know if there ever will be again. I thank all those that have been involved with me for all that they've given to my project.



The loss of an Angel:

We'll take a few steps back here for a second. In November of 2005, my family and I decided to sell our business, which we had for a very long time. We felt it was the right thing to do as times were changing and we had a very good offer to buy us out. So we took the offer and retired. One year later at my Godmother's anniversary party, my mother collapsed while dancing at the party. On August 3, 2007 my mother died from an operation that went wrong 4 days before. I'll spare you the details on this one because they are quite horrible. I've not been the same since and I don't wish what my mother had to go through on my worst enemy, nor do I wish the pain my father and I have had to handle on anyone. I've been very close to my parents my entire life. Though I am very proud of this, the closer you are the more it hurts when you lose them. I have accepted that God needed her and it was her time, but I do question His cause and effects at times. I'm not one to ever question God, but sometimes you just have to. I know one day I'll have all the answers and can see myself saying "I never thought of it like that, I'm sorry I questioned You". I can see Him smile and say "you see, I had it all covered. And all this time you thought I wanted to hurt you or your mother? C'mon Danny, you know better than that dude!" I miss you Mom and love you with all my heart! Not a day goes by that I don't think about you or wish I could hug you, kiss you and tell you I love you. You're with God and your family now so I know you're in better shape than being here with all the stuff we have to deal with in this world. You took a jet to heaven while Dad and I are still walking. J

So from August of 2007 to January 2008 I pretty much lost most of my desire to do anything. After the holidays were all gone though I started to come out of my funk and have been very busy with music once again. I grew up a lot and learned so much from this experience. I only hope that I don't lose my father now as I have become so close to him we're best friends. At least I have no regrets. My mom was my best friend, my angel and one of my reasons to live. We told each other we loved each other everyday whether she was sick or healthy. I do the same with my father and always have. So when his time comes, I will not have any regrets there either. I feel quite blessed to have the parents God sent me. So many people don't have what I have and I feel for them. If you haven't talked to your mom or dad in a while, do ole Danny D a favor and call them to say I love you. You never know when you may not have that chance.



MTM Music:

One day I read on a notice board that MTM went bankrupt. I'd like to thank them for NOT contacting me to let me know. I never would have expected this from MTM. Trust me, I know what bankruptcy is all about. I watched my parents go chapter 7 in 1996 and chapter 11 with our business. It's a horrible situation for any person or company to go through. But for me to hear of this on a message board instead of from the source? I had to contact Sebastian who responded to me instantly telling me the scoop. It seems he had left the company before this all happened. But it is what it is. So I'm no longer with MTM and don't have a deal for Europe/USA at this time.

I am still with Marquee Avalon in Japan and I have spoke to them about a possible release. We'll see what happens.



What's up now Danny:

After I put the initial shock of losing my mother to the side, (it never really leaves you just learn to move on because you don't have a choice) I decided to jump back into my music and start writing again. I have about 14 new songs that I'm working on and have since totally updated my studio with some incredible goodies. I also have started working on a long over-due instrumental guitar album that I have 5 songs for. I really don't know at this point whether or not I will release this stuff. I most likely will not sign with a Euro label ever again unless it's a label that wants to really do something to help me get to the next level. But you know how they all work. They don't give a rat's ass about making the scene grow. You either have to be an old guy that had a name in the 80's to have any pull with them or you are a guy like me that just makes the long list of artists on the label look longer. So I'll probably release an album on my own and sell it from this site as well as get involved with digital downloads and stuff like that.

As I updated my studio I got a chance to praise some of the new gear I've been using on a few message boards. One of the companies actually saw what I had written on a site and asked me to write a review for them. You can check it out here: Danny's Review and then look up "testimonials" and you'll see me there. For you studio engineers out there, this is the most important plug-in you will ever purchase. Trust me when I tell you. Read my review and then read it again and think about what you do to yourself when you mix a tune. It was the best money I ever spent, honest!

I've also been doing quite a few mastering jobs here as I had mentioned on my message board. This has taken off to the point of me needing to hire someone to assist me. I love the work though and really like the challenge it presents. I just never expected to be this busy. If any of you need any mastering work, consultation, producing or film sync/audio editing, please mail me at Danny Danzi Mastering and we'll discuss things on a one on one basis.



Tribute bands and cover bands:

A few months back, I was approached by a few good friends of mine to do a Queensryche tribute. I was a bit leery at first due to how much mastering I have going on as well as my own 2 albums I am working on. I then got an offer to work with a pretty big company doing specialty shows. I checked out the deal and felt it would be too time consuming for me to handle. As of now they are deciding whether or not I can be a part timer for them as I had declined the full time job. It's just too much and would be more of a career and would put my music career on hold.

Some of you may remember the name Joey Defalco. He was a bassist for me in the early Danny D band years for a short time. He's had a pretty killer cover band together for about 7 months and has been after me to check them out. Because I've had so much going on I really didn't think this would be something I'd be interested in nor would I have the time. One day he finally gets me to go to their rehearsal and check them out. I was immediately hooked! I have to admit this may be the best cover band I have ever been in. We'll be playing quite a few Atlantic City casinos as well as some really nice clubs and bars. One of the cool things about this band is I know 30 of their songs already. This is what impressed me. With the Queensryche band, I would have to learn the entire Mind Crime album pretty much note for note. With the way my schedule is now I didn't feel I would have the time to put into the project and make it as authentic as it should be. With the cover band "Powerhouse" it's the perfect situation as I can totally be myself and enjoy the ride. We play everything from current rock, Motown, classic rock, 80's rock, dance and all of it is delivered with total heaviness. So I can be Danny D and play like a maniac on all these tunes. I think anyone seeing us will be totally impressed as this band is doing material not many have attempted to cover. 5 part harmonies, a great singer, all band members sing well, awesome bassist, keys, and drummer. It's the perfect package to go out and have fun with. Not to mention we all seem to be family and most of the band has known each other their entire lives. So I'm quite stoked to be a part of this as well as all the other things I have going on.



Rocklahoma Music festival:

A huge show in Oklahoma goes on every year with all the best 80's music bands in the business. This year will be no different. Some old friends of mine from my club days recently got a deal with Retrospect records. The name of the band is called WhiteFoxx. I was asked to fill in for one of their guitarists so I took the gig.

The initial lineup on the main stage is as follows:

Thursday (Pre Party for those who have bought three day tickets) Bret Michaels, LA Guns featuring Tracii Guns, Enuf Z Nuff, Vain, House of Lords and Jet Boy.

Friday: XYZ, Armored Saint, Kingdom Come, Night Ranger, Extreme, Triumph and TBA.

Saturday: Pretty Boy Floyd, Every Mother's Nightmare, Tora Tora, Black N Blue, Trixter, Kix, Warrant featuring Jani Lane and Cinderella

Sunday: Axe, Beautiful Creatures, Zebra, Lynch Mob, TBA, Tesla and TBA

On the "B" stage are the lil guys like me.

Thursday July 10
1:45 - 2:30 Jester
3:15 - 4:00 Harlow
4:45 - 5:30 Sidekixx
6:30 - 7:15 Frontrunner
8:15 - 9:00 Pairadice
10:00 - 10:45 Tommy Had A Vision
12:30 - 2:00 Messano (Bobby Messano Of Starz)


Friday July 11
12:45 - 1:30 Jester
2:15 - 3:00 Gypsy Blue
3:45 - 4:30 Whitefoxx With Danny Danzi
5:30 - 6:15 Blue Tiger
7:15 - 8:00 Wild August
9:00 - 9:45 Valor
10:45 - 11:30 Paul Shortino (Of Rough Cutt / Quiet Riot)
12:30 - 2:00 Mariah


Saturday July 12
12:30 - 1:15 Warryor
2:00 - 2:45 Bad Candy
3:30 - 4:15 Lorraine
5:15 - 6:00 Nasty Nasty
7:00 - 7:45 Cuttlass
8:45 - 9:30 Mass
10:45 - 11:30 Vyper
1:00 - 2:00 Defcon


Sunday July 13
11:30 - 12:15 Bad Candy
1:00 - 1:45 Oney
2:30 - 3:15 Strikeforce
4:15 - 5:00 Herazz
6:00 - 6:45 Reckless
7:45 - 8:30 Heartless
9:30 - 10:15 Ron Keel
10:45 - 11:30 Warryor
11:45 - 12:30 Real Steel


I don't know what to tell you if you want to attend this show. I'm just a guest here. I found quite a bit of information by typing Rocklahoma 2008 in any search engine. You'll see so much information on this it's mind-blowing. I had no clue it was this huge. At any rate, thanks to Mike Regina and WhiteFoxx for inviting me to be a part of this.



The Shred Shed:

Yeah, I know that didn't seem to pan out the way I had hoped. It's going to at some point though because I'm in the process of also starting my own label DanziLand Music. I have a few connections for releasing music so I'm going to share my connections. You can make enough money to survive doing this with the right advertisement, product to present to the masses as well as distribution to get things going. My plan is to have a website dedicated to this sort of thing with incentives for people to be a part of it. I'll have 2 partners involved with me and we are presently mapping out all of the specifics. It's something that's never been offered before on the Internet. We have some really good financial backing as well as credible music industry officials behind us. This will of course take some time to map out, but it's going to be something truly unique once we get everything in place. So the shred shed will definitely see the light of day. It just may come to you with a new name in another form. I'll keep you posted on this.



Stargazer Management and the DanziLand Myspace account:

I spoke to a management company that was all pumped up to work with me. Unfortunately they have been unable to do much for me and I've never signed a contract with them. Maybe that's why? I really don't know. Most of what they have told me were things that were "possibilities" that would never get off the ground. If you have DanziLand as a myspace friend, please note that I have nothing to do with that account other than I have given them permission to create it. They created that account in hopes of having a general consensus of what the Danny D fans were all about. Needless to say all this account has done is confuse the hell out of my fans. I already have 2 myspace accounts and a VERY good web presence. But they felt this was the right thing to do so I allowed it. I'm not officially contracted to anyone at this time by way of a label or management. However, if Stargazer or anyone else can do something for me, that's a plus and I welcome it. Show me the details then show me the money and we'll talk, deal? J The account I run personally on myspace is www.myspace.com/dannydanziband so if you want to make sure I get your messages on there, contact me there.



Conclusion:

I really don't know what's in store for me at this point musically. I'm just going to live each day one at a time and see where this takes me. I do hope to release another vocal album and the instrumental album I mentioned but I don't know when that will be. This is a very tough business as some of you may or may not know. Imagine putting major time into something to where your life is on hold and you have made sacrifices with nothing but heartache in the end. Think about how much you love what it is you're doing and how little love you get back in return. Just about every reviewer has a voice for the sake of a voice because they are mad they had to cut their hair and give up on the dream to get a real job or get married. So they bag on us thinking they will have enough impact to be respected. I invite any of them to live in an artists shoes.

I would love to see someone work 12 or more hours a day and make $0 at the end of a 7-day week. Only to have people write reviews about how bad something is when none of us have ANY label support at all. Of course there will be production issues, of course we will have to cut corners. Do people really expect us to deliver a quality album that would rival a major label for a $5000 advance with no possible way of knowing if you will ever make a dime other than your advance? Yeah, that's the going rate these days for an unknown or semi known Melodic Rock artist advance. My advances were considerably higher than the above, but that's what you'd be looking at today just starting out. Did I mention you'll most likely NEVER tour in your own country and may get lucky to see a few shows in Europe? Reading the above, do any of you see it as "worth it" to keep on creating? Where do we find incentive, desire or inspiration? Granted, music is a drug to me. I can't turn in off and on like a TV. But how on earth are we supposed to keep on releasing albums when the ones we did in the past haven't been fully accounted for yet? Do you think releasing albums and being ripped off by my labels is something I and others enjoy? I've been burnt 2 times now. At first I thought it was my poor decision making but when I looked at the list of artists that also got screwed, they were well known so I must have known something. I say we just had some bad luck. But it definitely can put a bad taste in your mouth that makes you ask yourself "what's the use?" As we get older and still continue to do this, the excitement you once had fades. Paying bills and living life in a different way becomes the standard norm. The days when you'd say "I'll play anywhere, any time, any place and I'll do it for free" are gone. Gas is so expensive you'd not even travel 2-3 hours to do a show unless they cover your travel expenses. Gas, tolls, food, $90 or more for me to travel 2-3 hours I'd imagine. For what $100 IF I'm lucky? See my point?

I have made a lot of money in this business. I can't tell a lie there. But I earned that money and had it coming to me. When you aren't paid for something immediately and are owed money, it throws a monkey wrench into your world. The waiting is the hardest part, but the people you owe money to can't wait, can they? Yeah, I'm being honest here…part of the reason I do my music is for money and survival. Sue me for feeling that way. J We'll see how you feel after spending 25+ years of your life playing and writing. One day you are done with the word "free". It doesn't mean wanting or expecting money degrades your musical purpose. It means there comes a certain time where you feel you are worth something and will not go above and beyond the call of duty and not get anything in return. I had a birthday in February that of course made me a year older and a year wiser. I have put my life on hold by choice for the love of music in hopes it would become a career that I would love and enjoy. I'm not married, have no children and have devoted my entire life to this field. It will never love me back. I have years behind me that I can never have back. To me there is no greater sacrifice than what I have given. I haven't married or had children because I did not want to neglect my family due to this musical dream I have. I think that was a wise decision on my part. But one day you wake up alone, frustrated and tired of people taking advantage of you. Yet you still press on.

Though I will still take my music as serious as always, it no longer can be my reason to live. As you get older you know what love is really about and your heart gets weaker with handling the constant treading it receives in the music business. I'll never quit, but you can say I've found a few things in life that are a bit more rewarding and realistic. I'll always write music and be a musician but unless a real deal comes my way, the music will be the thing that comes second or third in my life. Unfortunately that's just the way it goes sometimes.
Hopefully something great will come my way. If it does you guys will be the first to know about it, that's for sure. But until that time, I'll try to keep in touch and share as much of myself with you as I can in a less stressful and non-obligated way. I think that's what's best for me at this point. So no worries, I'm not done, I've just re-evaluated my stance on a few things. I'll continue to pursue the dream, it just won't hold the precedence it once had. I look forward to hearing from you all if by chance you want to send an email. Don't ever hesitate. I've always responded to emails and that won't ever stop. I'll try to keep in touch a bit more often and let you know what's been going on. I figure this update should keep you busy for a while until I have a bit more information to post up. It won't be a year from now, I promise you that! J So thanks for all your support through the years, your great friendship and for not forgetting about me despite my lack of keeping in touch. God Bless you all, be safe and for sure I'll talk to you very soon!
With much love and respect,

Danny Danzi
2005-06-11
Hi everyone:
Hope everyone is doing fine! Sorry for being away for so long...then again, ain't I always? ;) Makes ya miss me, cmon, you know it. :) Lots of things going on which I'll get to as they materialize. But for starters, sales of DanziLand have been very good and I thank you all for that. So to show my thanks, the band and I have decided to play some show dates. We're going to start small and see how things go. As most of you know, the original scene in the US isn't too kind to guys like us, so we're taking baby steps in the beginning to see how we fair. Local shows for the most part just to get our feet wet and get all of us used to playing live again, but we plan on branching out and targeting select areas of the US to try and kick some tail.

Most of the guys and myself have quite a few vacation days planned for this summer, so we may not see too much action until the fall. We basically decided a bit too late to hit the road and make this happen. I do have 2 shows at this time and would love for you all to come and join us. I don't have all the information, but promise to post it in full asap. The guys handling these shows really want to see the scene come back so they are helping the best they can to make things happen. Let me tell you what I do know at this time.

July 16th at The Pirates Den in Gloucester City NJ - The "Den" has quickly become "The Galaxy" of the South Jersey club scene, and it's one of the popular places around the area that still promotes good rock/metal. The owner is a killer dude (Brian) who is about our age, so he knows how important it is to have a scene. You can find more information about the den at www.southjerseyclubs.com

There will be 5 bands playing, yet this list I'm showing says 6. One of them dropped out but I wasn't told which one at this time. We'll most likely go on last as this will give us more time to play. The other time slots were 30 minute sets, and I figured with my great and loyal following, I need to give you as much music as possible...so I grabbed the last slot. :) Would ya really want me on at like 10 and only play for 30 minutes? I didn't think ya would either. ;) So this is what I have so far...and all these bands are insane!

Live Bands Performing

SCREAMCLAN
WHITEFOXX
INSATANITY
MAIL ORDER BRIDE
OMEGALORD
DANNY DANZI


Show starts at 8:00 pm, get there early !!! $10 At the door, 21 & over, bring ID.
July 23rd Williamstown VFW hall, Rt 42 Blackhorse Pike - Next, a very good friend of mine Joe Loscalzo (Cry Wolf guitarists, we played with them at the Star Cross Tavern a few years back, remember....in Franklinville?) is having a benefit for his wife at the Williamstown VFW hall. Tickets are $25.00 in advance and I'll be selling them for anyone that can attend. All you can eat and drink for $25.00 plus me and my band! Cry Wolf will also be playing and both bands will do 2 sets of music. Joe's wife has an illness that can't be treated in the USA.

So she has to go to Germany to have a special operation that will cost 35k! So all your help would really be appreciated in this one. In the event someone can't make it but would like to donate some money, I will have information for you so you can donate into her account directly. Commerce bank will be handling the Cindy Loscalzo benefit funding and I'll supply a number and other information for those that can't attend but would still like to donate.

The Shred Shed - I've had quite a few ask me what's going on with the whole shred shed thing. I haven't forgotten about it, I just don't have the time I once had when I decided it was something I wanted to do. I WILL go through with it eventually, but right now I think my top priority should be playing live and showing you what DanziLand sounds like live. So let's get the show thing rolling and we'll take the next step as things materialize.

So that's it for now, I really hope I can see some of you at one or both of these shows. And I'm sorry for not being in touch much for news or any updates. There really hasn't been much to report other than the band and I seriously working on our live show so we can try and bring you some music. We've had to make quite a few changes in how we perform now that we've become a 4 piece unit, and it's not been an easy transistion.

Andy Slostad has taken over the bass duties and is doing an excellent job! But due to us being one member short, we've had to totally revamp our singin duties, and Timmay! and Andy have had the burden of learning all new parts. It's sometimes very hard for us to break old habits, and this is what you get faced with when you lose an important member. I now take care of all the guitar duties, and it was a bit hard for me, as in some songs, Andy would play the guitar and I would just sing. So it's not been an easy time for us, but we've all taken to the adjustment very well and are ready to play! I hope to see you all soon and will post additional show dates as they come through to me. I have quite a few more shows in the works, but I have to see what everyone's schedule is like before I can post them. Thanks again for all your support and friendship!!
With much love,

Danny Danzi
2005-06-04
Cindy Ann Loscalzo:
This just added by Danny in continuation with the June 11, 2005 news article posted below:

Danny has tickets on sale for this show for $25.00 each if anyone is interested. They can mail a check or money order to:

Danny Danzi III (ATT. Cindy Loscalzo Tickets)
P.O. Box 245
Williamstown, NJ 08094


All checks or money orders MUST be made out to the Cindy Ann Loscalzo Benefit Account. Please do not send donations to Danny, the above address is for purchasing tickets only. Send donations to the address below. Donations through Commerce Bank: Made out to Cindy Loscalzo Benefit Account

Commerce Bank
236 Sicklerville Road
Williamstown, NJ 08094
(856) 728-1700
http://bank.commerceonline.com/information/branch_locations/glou.cfm


2004-07-10
Interview:
The new interview in the interviews section for Strike Up The Band is posted, BUT you may want to go the web-site and check it out because the intro to the site is Danny playing. Nice web-site by the way.
2004-06-04
Hi Everyone,:
I apologize for my absence from the scene, but quite a lot has been going on in the DanziLand camp. First off, the band and I would like to thank you for the support you've given us since the release of DanziLand. We've done very well in sales in both Japan and Europe, and it's all your fault! :-) So thank you for not forgetting about us, we really appreciate it!!

I know, "cut to the chase Danny, what's the deal"? Well, a little bad news first, but not totally bad. We have since lost our bass player Wayne Davis. Wayne as you may or may not know, is a pretty successful studio engineer that has worked very hard through the years. DanziLand was recorded at "Davis Sound Studio" and Wayne gave us the best care anyone could have given us. Through his hard work with various acts and contacts from all over the US, Wayne landed a production gig in New York as an audio editor for a company associated with national acts. He is also running his studio as often as possible during this time, so the guy is burning the candle at both ends. Needless to say, he will be too busy to be in the band at this time, but we never know what the future will bring. This of course is a sad time for us, but a happy time for Wayne as he is living "his" dream in the recording field. We'll miss you Wayno, wish you all the best of luck and always remember you will have a home here in the event anything changes. :)

"Who's on bass Danny?" Andy Slostad has offered to take over the bass duties for now, and all the guitar parts will be taken care of by me. We haven't yet decided whether or not we will add another guitarist or a bassist at this time, and this is the reason for my absence in the public eye. We've been practicing extensively to find out if the unit is capable of continuing AS IS before we make any decisions on auditioning new personnel. As of this very minute, it seems the unit is very tight and is having no problems playing songs from both albums in its current state. Timmaay! is singing more than he did when Wayne was with us, and this seems to be working out quite well. We've altered some of our keyboard parts to make things a bit more interesting and to also "Phil" things out a bit more.

We are all happy with the outcome at this time, and are gearing up to go out on the road and thank you all personally with a killer show. We'll hopefully be hitting parts of the East Coast, as well as the Ultra Sound show in California this year. We were also invited by Mark Ashton personally to play at the God's this year IF it materializes. Talk of shows in Japan are also in the works, so we'll keep you posted on all of that as we find out. We'll probably do a few tune up gigs locally for the up close and personal approach, so stay tuned for those. Again we all thank you for your support and friendship all through the years, and are pleased that DanziLand has been so well received.

For those of you interested in what's going on with the Shred Shed, that too will get under way very soon. I have to take care of the band situation before I can get to that part, so hang in there a little bit. I have some of my own personal instrumentals as well as some of my favorite players from around the world that will contribute as well. So stay tuned for that! I didn't forget about it, I just have to take care of the serious career issues first as you know. :) I hope you all are well, and hopefully we'll see you sometime this summer or in the fall.

God Bless,

Danny Andy Timmaay Phil
2004-03-12
Hi Everyone!!!:
Welcome to DanziLand!! Sure has been a while hasn't it? I hope you are all doing great, we miss ya! Killer new site or what? Hahaha! We're pretty stoked about it too, thanks Michele! I guess you're all wondering what's been up, right? Well, I won't keep you in the dark any longer.

Of course you know about the label change, and all that went down with that, so we won't waste any time there. The band and I finished the new album and it was released on December 17th. Sales so far have seriously been fantastic. We sold more copies of DanziLand in 6 hours than we sold of SLIT in 3 years! So that's a good thing for a little over 2 months. :) We've also re-released SLIT in Japan with an additional bonus track. So there are now 12 songs on that album. The artwork has been changed a bit also, so check it out. I'll have them for sale on the site shortly, as well as the Euro and Japanese CD's.

Also, DanziLand (which I'm calling DZL at the moment until someone comes up with something better) will be out on MTM and available to the rest of the world on March 15th. This album will contain a different bonus track than the Japanese release, but is pretty much the same album with a few credit changes and a different song. You wanted a bonus track, we hooked you up! :)

The band and I are currently relaxing after a grueling recording endeavor that has taken us a few years. We plan on getting a live show together shortly, and hitting everyone with the new material. There's been quite a lot of "tour" talk in various areas, but nothing is etched in stone. So if you heard any rumors, or I told you things in confidence, they are probably true, but not definite at this time. LOL!

There will be quite a few updates going on with the site now, as I have loads of information and other goodies to include. As some of you may or may not know, I've gotten quite a few guitar fans that have shown an interest in some of my work that you might not have heard if you just know of me from my CD's. I'll have a part of this site that will cater to those interested in my guitar style, and a place that will allow you to "ask Danny" anything you want. I want to try and answer every question, so we'll see how this goes. At first it may be a little slow, so maybe we'll do one a month or one a week. If it catches on, we'll do one a day. As long as your question is intelligent, and isn't TOO offensive, you'll see it on the board eventually. :)

I'll be posting up some live video's of instrumental's I've been working on, and maybe share a few licks with you....if you're good. ;) There will also be a section of the site that I will call "the greatest unsigned guitarists in the world". This place will feature close friends of mine that I admire, most of whom are featured on www.guitarwar.com and various chat clients and sites I frequent. I'll post guitar tabs, sites, and maybe even a few lessons and some video's for you in the future, as well as links to the scariest players I've ever heard that aren't famous YET.

So make sure you check back often because this is going to be one hopping joint once we get everything set up. The band and I TRULY appreciate all of your support and friendship during this long wait for the album, and we hope that you enjoy it and spread the word. Thanks everyone!!
With much love,

Danny Danzi
2004-03-11
From MelodicRock.com:
A great in-depth and personal interview with Danny Danzi. Danny has proven to be one of the more popular personalities on the melodic rock scene and in this interview provides some interesting and honest insights into the making of his new solo album DanziLand and surviving the last 4 years. Check out: Danny Danzi - Welcomes You To Danziland.
With much love,

Danny Danzi
2004-03-07
FIREWORKS 15:
Issue 15 for UK rock magazine Fireworks is about to be unleashed. Featured in this issue is interviews with: Cornerstone, Crystal Ball,

Danny Danzi

, Enchant, Firehouse, House Of Lords, Jaded Heart, Jack Blades, Nickleback, Primal Fear, Seventh Key, Starz, Steve Vai, Stratovarious, Tesla, Zon.....and more!! For purchase and subscription information, view the Fireworks Page.
2004-03-04
Hey guys:
I just wanted everyone to know I'll be live on the radio (via telephone) to preview the new album DanziLand at http://www.unitedrock.com/ on Friday, March 12 at 10pm Eastern Standard Time. (7 pm for you west coasters) We'll be doing a live interview and will play tracks from DanziLand as well as a few from Somewhere Lost In Time. There's also a chat room we'll be in to answer your text messages, so please come out and join us! :) This is gonna be way cool! You'll also need to have either Winamp, or Real Audio player to hear the show in real time.

Once you get to the site, click the "tune in" button, load up your player and then click the "chat" button in the menu on the site at the top, center left. You'll be able to hang out with us and type in real time. So I can type to you and talk to you...your choice, but ya gotta be there! So make sure you stop out and say hello! :)
With much love,

Danny Danzi
2004-03-01
New Site Launch:
New Site Launch.
2003-12-24
Happy Hollidays:
Happy Holidays to all from everyone at DannyDanzi.com
2003-12-17
From Danny:
I just wanted to let you know the album is out in Japan today! :) If you can't wait for the Euro/US release in April, www.cdnow.com and www.amazon.com have the Japanese version for sale right now. Hopefully it will be a good year for us....wish the boys and I luck!! Thanks for everything!
Sincerely,

Danny Danzi
2003-08-21
MelodicRock.com reportst:
Popular melodic rocker and all-round good guy Danny Danzi has signed to MTM for the release of his long awaited new studio album Danziland. His debut album Somewhere Lost In Time was released back in 1999 and received high praise. Danzi performed all vocals, guitars, bass and drums on this album. Danziland is one album to watch for, as nothing in the melodic rock genre sounds anything like it. One advance track of his forthcoming album can be heard on the new MTM Music Compilation Vol. 9, which is released in October 2003. Several months ago I heard 4 or 5 rough mixes from the album and can guarantee this release will blow the debut out of the water and will be worth the wait for Danzi fans. The album is due out in Japan December 17 and is expected to be released in Europe in early 2004.

MTM Volume 9 is a compilation set to feature a lot of unreleased and advance songs from forthcoming MTM albums. It will preview tracks from Danny Danzi, Jeff Northrup & Paul Shortino, Sayit, Seven Wishes and Shiva. Radioactive will present the Japanese bonus track from their latest highly rated album Yeah, and Zar and Faro will add unreleased songs as well. German new comer X-ING (pronounced Crossing) will make their debut on the compilation.
2003-07-08
New Release:
Danny's new studio album has a firm release date! Marquee in Japan have confirmed the long awaited second album will be released December 17.
2003-04-09
Z Records:
Danny Danzi has officially left Z Records. Danny has been working on a follow-up to his popular debut album Somewhere Lost In Time. Danny made this statement regarding his decision:

"I made the decision to leave Z Records when I received a few offers from 3 very credible labels that were willing to work a bit more along the lines of what "I" wanted to do. I'm still negotiating with them and a few others and haven't signed with anyone in the US or Europe. But I have secured a deal in Japan with Marquee Avalon which I'm quite happy about.

Marquee really believes in the new material and they have taken good care of me all throughout my label search introducing me to some quality labels on their behalf. I will post an update as to what's going on as soon as I find out and things are more etched in stone. I appreciate everyone's support and for sticking by me in the wait for this new album. I apologize for how long it's taken to get together, but some things have been way beyond my control. It will be well worth the wait, that's a promise! Hopefully these new possibilities will work out in my best interest, but if not, I feel good inside that I followed my heart and got the chance to pursue them. Wish me luck!"
Ancient Archives